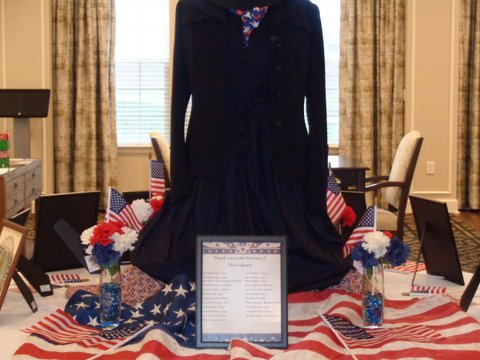 The Culpeper Honors the Nation's Service Members on Veterans Day
November 12, 2020
In honor of Veterans Day on November 11, residents and team members gathered to celebrate the country's servicemen and women, their spouses and family members.
Hans Murdock, The Culpeper's chaplain, held an opening prayer and read the names of all living veterans in the community. Pat Ballard, resident services director, spoke about the history of Veterans Day and read several pieces of veteran history from several of The Culpeper's resident veterans.
The event also featured a moment of silence in remembrance and memory of the community's deceased veterans and those who died this year due to Covid-19. A moving video of the Veterans Day concert by organist Randy Sheets and trumpeter Chuck Seipp,  who perform in concert frequently at the chapel at Arlington National Cemetery, the National Cathedral and other concert venues locally and nationally.
The celebration closed by awarding certificates of appreciation and flag pins to each veteran and a single rose to spouses and family.