Local Florist Surprises Culpeper Residents With Tulip Bouquets
March 27, 2020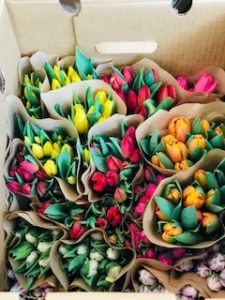 When Marcia Osbourne received a knock on her front door on March 26, she was delighted to find fresh blooms delivered to her doorstep. Courtesy of Bloomia—a wholesale florist located in King George, Va.— residents at The Culpeper received a bouquet of tulips.
"My room looks more like spring is on its way! Thank you for the beautiful tulips and the vase is lovely," Osbourne said. "What a wonderful thing for you to do!"
On March 23, Marketing Director Rose Wallace received a call from the Fredericksburg Regional Chamber of Commerce. As a result of order cancellations amidst the ongoing COVID-19 pandemic, Bloomia was looking for homes for hundreds of tulips. Wendy Zelazny, director of member relations at the chamber, said she knew exactly where the tulips needed to go.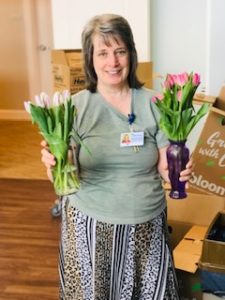 "We're very aware of all that the residents and staff at The Culpeper are sacrificing at this time and I can't tell you how excited I was when Bloomia reached out," said Zelazny. "They're the hardiest tulips you'll ever see too—they last forever!"
Bloomia General Manager Werner Jansen sent a crew on the two-hour drive to deliver the blooms. He said he hoped the flowers brought residents joy. Upon learning of the donation, Betty Brooks in resident services went out and bought vases and delivered an arrangement of tulips to residents.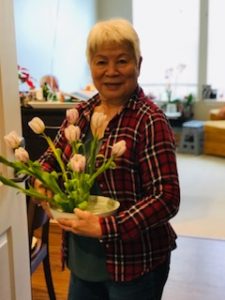 "During times like those it is crucial we support each other. Spreading some happiness during those dark and isolated days seems to be the perfect fit," said Jensen.
It seems his mission was accomplished as residents had permanent grins on their faces upon receiving these very special deliveries.
"When I opened my door and saw the flowers, I felt joy! It was such a happy gift to get and I love arranging flowers. It let us know that others are thinking about us always," said Culpeper resident Vicky Chung.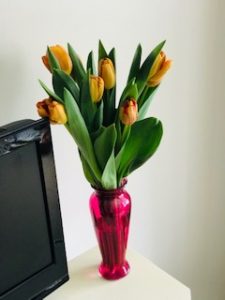 Bloomia will continue its tulip drop tomorrow, March 28, in downtown Fredericksburg, Va. The drive-by pick up locations are in front of the Historic Renwick Courthouse and in the Fredericksburg Visitor Center parking lot. Anyone who would like a bunch of tulips can simply drive up to these locations, roll down their car window and receive a large bunch to take home at no cost. The pickup stations will be open from 11:00 a.m. to 3:00 p.m.