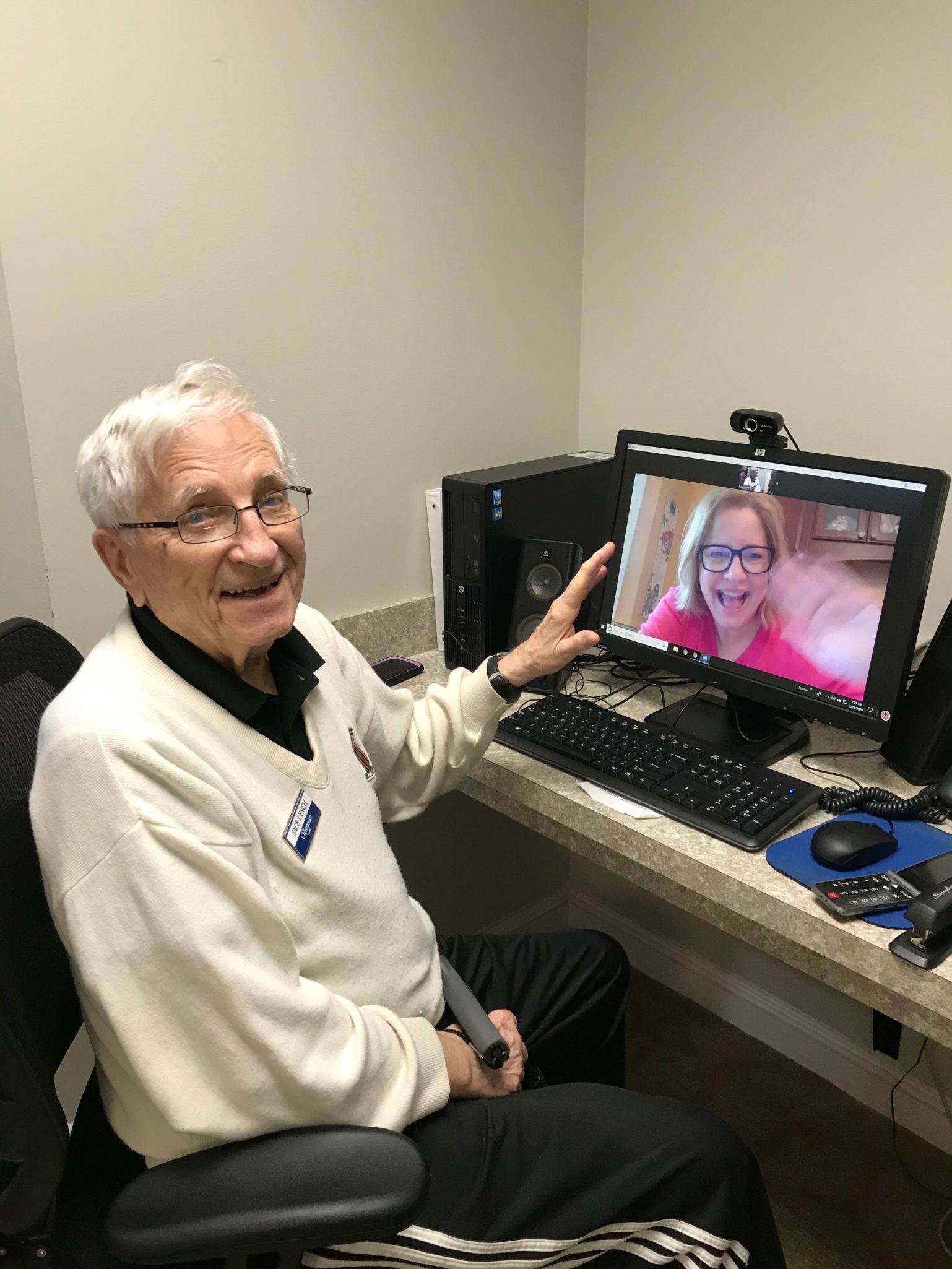 Residents at The Culpeper Go Digital
April 1, 2020
Jack Lynch is a resident at The Chesapeake, another LifeSpire of Virginia community in Newport News, Va. On March 31, he surprised his daughter, Becky, with a visit at her home in Hampton, Va. Due to the Coronavirus pandemic, it had been at least two weeks since the two had seen one another. It wasn't the visit they would have liked to have had, but it was the safest.
"The family planned a group meeting and they wanted to be sure he could participate. So, we helped them set up a Zoom meeting," said The Chesapeake's Program and Activity Coordinator Krystal Searcy. "I got the camera and Transportation Coordinator Regina Morris did the rest of the work. Becky was so happy to see him!"
Searcy has set aside time in her schedule to assist residents one-on-one with virtual meetings. She said her goal is to keep things as normal as possible, given the circumstances.
"The residents are so excited and so appreciative. They thank us daily for helping them," she said.
Restricting visitors was an incredibly difficult but necessary decision for the LifeSpire of Virginia management team. Knowing how important it is for residents to interact with family and friends, LifeSpire of Virginia's information technology team shipped iPads to each of the four communities to ensure people could keep in touch.
"The team is working closely with staff on-site to use technology in a way that we hope will keep our residents connected," said LifeSpire of Virginia's Vice President of Information Technology Robert Wilbanks. "We feel these connections are vital to the health and wellbeing of our residents and will do whatever we can to make it happen."
Team members at The Culpeper are also taking advantage of inhouse television stations to broadcast important updates, live entertainment from team members and virtual workouts with fitness instructors. Residents can also receive assistance with online grocery orders to ensure they have access to everything they need. Additionally, the resident services team has kicked digital activities into high gear with video-based Bible study, health talks and online games.
Residents, family members or friends can contact The Culpeper directly for assistance in arranging alternative means of communication with loved ones. Questions may be submitted via email at covidquestions@lifespireliving.org.